News Archive (2000/1999/98)
December 29, 2000
2001 "Horror" Movie Preview
As 2000 comes to a close, here's a quick preview of some horror/sci-fi movies to look out for in the coming year. There are no spoliers here, just quick descriptions of each film.
Shadow of the Vampire
Director: E. Elias Merhige
Starring: John Malkovich, Willem Dafoe
Release Date: January 26, 2001
Based on the screenplay by Steven Katz, Director F.W. Murnau (Malkovich) is trying to achieve authentic horror for his vampire film "Nosferatu". It's so authentic that he employs a real vampire (Dafoe) to handle the title role and Murnau's crew members begin to disappear.
Hannibal
Director: Ridley Scott
Starring: Anthony Hopkins, Julianne Moore
Release Date: 2/9/2001
The much aniticipated sequel to Silence of the Lambs, Hannibal takes place 10 years after the first film. Julianne Moore takes on the role of Clarice Starling after Jodie Foster refused to reprise her role. Anthony Hopkins reprises his role as Lecter and Ridley Scott (Alien, Bladerunner, Gladiator) directs. This is sure to be the must see of the late Winter/early Spring season.
Jason X
Director: James Isaac
Starring: Kane Hodder
Release Date: Was April 13, 2001 - now August, 2001
Set in the future, Jason (Hodder) does his hack-n-slash thing again. The film has actually gotten some positive buzz until it's original April 13 date was pushed to mid-August. It may still be worth a watch.
The Mummy Returns
Directed By: Stephen Sommers
Starring: Brendan Fraser, Rachel Weisz, John Hannah, Patricia Velazquez, The Rock, Oded Fehr
Release Date: 05/11/2001
The sequel to the popular movie released in 1999. Look for World Wresling Federation's The Rock as the Scorpion King.
Jurassic Park 3
Director: Joe Johnston
Starring: Sam Neil, Laura Dern
Release Date: July 18, 2001
The third installment of the mega box office dino movies finds our original heroes Neil and Dern (without Jeff Goldblum) thrown in the mix of a more scary "Jurassic" movie. Look for a new and even bigger foe this time around.
Planet of the Apes
Director: Tim Burton
Starring: Mark Wahlberg
Release Date: July, 27, 2001
More of an original film than a remake, Tim Burton (Sleepy Hollow, Edward Scissorhands, Batman) directs what is sure to be a visual feast. Mark Wahlberg takes the Heston role that was once offered to Arnold Schwarzenegger.
November 13, 2000
Scooby-Doo, what are you?
It looks like the new live-action version of Scooby Doo will have a CG element. The star of the movie, Scooby Doo will be generated completely on computers. The director, Raja Gosnell said at a panel discussion that the dog would be completely in CG. The film will also star Freddie Prinze Jr, and Sarah Michelle Geller playing Fred and Daphne respectively.
November 10, 2000
Sci-Fi Publisher Dead
CINEMAFANTASTIQUE Editor and founder Frederick S. Clarke, the publisher of the sci-fi/horror movie magazine Cinefantastique took his own life on October 17, the New York Times reported (Thursday, 11/9). Clarke was suffering from depression. The Times said that the magazine will continue to be published by Clarke's wife, Celeste, its business manager.
11/9/2000
The Rock is no "Barbarian" but is the "Scorpion King"
John Milius, director of 1982Ős Conan the Barbarian, will write and direct a new installment of the film franchise that once starred Arnold Schwarzenegger. Variety reports, Warner Brothers acquired the rights to the character created by writer Robert E. Howard from Stan Lee Media, with the hopes Milius would return to helm.Milius, who wrote the original film with Oliver Stone, has even talked to Schwarzenegger about returning in some capacity. Though at this time, since the movieŐs only in an early developmental stage, itŐs not clear what role Arnold would play. WWFŐs The Rock had been approached about playing Conan himself, but his obligations to UniversalŐs Scorpion King (Mummy 3) prevented him from taking the role. Word has it that the WWF will aid in producing the third Mummy sequel, so that probably played a strong hand in why Rocky passed on the project. Though nothing is set in stone yet, several story ideas and concepts are being tossed around right now--the new film may even end up carrying on from where the short lived Universal series left off rather than remaking the first movie. According to Variety, Stan Lee Media had a number of suitors looking to pick up the Conan movie rights besides Warner Bros., including Fox, Columbia, Revolution, Dimension, Beacon and Universal. Meanwhile, the Hollywood Reporter notes that Warner Bros.' deal with Stan Lee Media also includes an option for sequel rights, which must be exercised within an established time frame. In addition, Matrix directors/writers Larry and Andy Wachowski will work with Milius in developing the project with an eye towards directing second unit on the eventual film. They will also produce the project along with Jon Jashni, Irving Azoff and Richard Alexander. Stan Lee will take executive producers credits on the film.
11/9/2000
John McTiernan in talks to direct Terminator 3
It looks as if John McTiernan is in negotiations to direct the 3rd installment of the Terminator franchise. McTiernan, best known for directing Die Hard, Die Hard 3 and Predator may be in for an uphill battle. Rumors of a very poor script and the refusal of Linda Hamilton joining the cast are negatives for the film. Plus, McTiernan's has spotty success. Films like Medicine Man and Last Action Hero which he teamed up with Arnold Schwarzenegger were box office and critical bombs. The highly anticipated and hugely marketed Last Action Hero was plagued with a poor script and had to go head to head with box office monster Jurassic Park back in the Summer of 1993.
11/6/2000
Jason X to hit theatres in 2001
It looks like the final Friday the Thirteenth film titled, "Jason X" will be released on Friday, April 13, 2001.
11/5/2000
Linda Hamilton says "NO" to Terminator 3
Linda Hamilton, star of the first two Terminator films has decided not to participate in the upcoming Terminator 3 project scheduled for a 2002 release. "I was asked. I turned it down. I felt it was more courageous not to do it. I spent nine years trying to get the image of my Terminator character out of people's minds. I'm tired of being ever-earnest and stricken," Hamilton said.
TOP 50 HORROR MOVIES?
2/11/00
The Internet Movie Database has posted its "Top 50" horror movies. The top 50 is based on votes from the members of the web site. The movies got their ratings based on the reactions from fans on a scale of 1-10 and number of votes recieved. Here are the top 10 in the list:
1. The Sixth Sense (1999) 8.7/10 (13,468 votes)
2. Psycho (1960) 8.6/10 (12,311 votes)
3. Alien (1979) 8.2/10 (15,003 votes)
4. Aliens (1986) 8.2/10 (17,597 votes)
5. Nosferatu, eine Symphonie des Grauens (1922) 8.4/10 (1,231 votes)
6. The Shining (1980) 8.2/10 (10,072 votes)
7. Jaws (1975) 8.1/10 (10,215 votes)
8. Dawn of the Dead (1978) 8.1/10 (2,186 votes)
9. The Haunting (1963) 8.1/10 (1,366 votes)
10. Sinnui yauman (1963) 8.7/10 (357 votes)
If any of this looks confusing and if you want the complete list please go to The Internet Movie Database.
2/9/00
HAMMER TIME!
A group of British investors are planning to remake some of the classic Hammer horror films that were so popular in the 1950's and 1960's. Advertising mogul Charles Saatchi, British Film Commission chairman Larry Chrisfield and Warner Music chairman Rob Dickins are involved in the revival. CEO Terry Ilott reported to the BBC that he is in talks with U.S. producers to get the ball rolling on the projects in the near future.
---
DRACULA 2000 STAKED BY CRAVEN
11/8/99
Patrick Lussier, Wes Craven's longtime editor will direct an updated version of the classic Dracula story for Dimension Films. The film will appear under the newly created "Wes Craven Presents" banner as a deal with Miramax with which the Dimension label appears. Shooting will start early next year with a planned release date of December 2000.
---
"EXORCIST" SPEWS UP A PREQUEL
11/3/99
"Exorcist: Dominion" appears to be on the horizon for director Tom McLoughlin for Morgan Creek Pictures. Written by William Wisher (Judge Dredd, Terminator 2), the prequel is set to begin production next Spring in Africa. The script is based on the novel by William Peter Blatty and follows Father Merrin back to his very first encounter with the Devil in Africa.
---
JASON VORHEES COMING TO A THEATER NEAR YOU
11/3/99
It looks like New Line Cinema wants to resurrect Jason for the next installment of the "Friday the 13th" series. Titled "Jason X", New Line is waiting for franchise creator Sean Cunningham to hand them a script and budget by the end of the week (Nov. 6). At that time, New Line will decide whether to green light "Jason X" or the long awaited "Jason vs. Freddy", which Cunningham is also producing. Kane Hodder, the actor best known for Jason is expected to reprise his role of the hockey-masked killer. Which ever film gets the go ahead should be in theaters by the end of 2000.
---
ANOTHER HAUNT..."BLAIR WITCH" STYLE
10/24/99
It looks as if a "Blair Witch" style copy cat is in the works with "The St. Francisville Experiment." Four nonactors with supernatural interests (a ghost hunter, a psychic, a historian and a film student) were placed in the Lalaurie House, a New Orleans "haunted" mansion and shot their experience on high-quality video tape. The story behind the Lalauries was that they were a family notorious for abusing, killing and dismembering slaves. The house partially burned and many mutilated bodies were discovered by local authorities. The Madame of the house moved to a plantation called St. Francisville where it is said she was hanuted by the screaming ghosts of her victims. A late Fall release is expected.
---
"X-MEN" UPDATE
10/23/99
For those of you that don't already know, Hugh Jackson will star as Wolverine in 20th Century Fox's "X-Men." The cast also includes Patrick Stewart as Professor Xavier, Halle Berry as Storm and Ian McKellen as Magneto. June 2000 is the expected release date.
---
THE $10 MILLION DOLLAR MAN...AND THEN SOME
10/23/99
M. Night Shyamalan, director of the huge hit "The Sixth Sense" will get $5 million upfront for his spec script "Unbreakable" with Bruce Willis attached to star. He will also get an additional $5 million to produce and direct the project giving him $10 million dollar payday. He is also expected to earn a large part of the backend participation. $5 million is the highest any writer has ever gotten for their work. New Line Cinema paid $4 million to Shane Black for the "Long Kiss Goodnight" in 1994. "Unbreakable" is said to be an action-drama with a supernatural element set in Philadelphia. It is also rumored that Samuel L. Jackson is in negotioations to co-star with Willis. Filming is to Start in April, 2000.
---
FX HOUSES GETTING INTO THE ACT
10/21/99
It would seem that visual effects companies are producing more and more of their own projects rather than having the studios come to them for their services. Rhythm & Hues of Los Angeles is set to work on their first script, "Abbots Book," a Gothic 17th century horror story that will be a combination of computer graphics and live action. Johnathan Frakes (Star Trek: Insurrection) is attached to direct.
Stan Winston, the creator of such famous maonster as the "Terminator" and the Dinosaurs of "Jurassic Park" will be writer-producer-director of an all stop motion post-apocalyptic action fim call "The Mutilator."
---
GETTING SPOOKED IN CALIFORNIA
10/15/99
So you wanna go to to the latest and greatest haunted happening but you don't know where to go. Well, if your in California you've got some great choices. My apologies to the non-Californian residents, I live in California so the attractions I go to are here. Here's a small list of some great haunts in the state of California. Be prepared to have lots of cash on hand at some of these events. It's not cheap to be afraid anymore.
Knott's "Scary" Farm, 8039 Beach Blvd., Buena Park. The absolute king of horror-fests celebrates it's 27th year in production. The Knott's Berry Farm amusement park is transformed into a haunted park with 10 mazes, live shows and more than 1,000 ghoulish creeps stalking you throughout the park. The Crypt Keeper's Tales From the Inquisition and Elvira's Nightmare are two new mazes this year. Camp Spooky is open from 9:30am-5:30pm for kids 3-11. I went last year and loved it. But bring tons of cash. There's a big price to pay to be scared ($40 at the gate). For more information call 714-220-5200 or go to the Knott's Scary Farm web site.
Haunt '99, off I-15 at the Jurupa exit, Ontario. Located at the Scandia Amusement Park. Don't know much about this one but the price is right ($7.50 adults; $5.95 for 54 inches or under) For info call 909-390-3091 for times and dates. Oct. 22-31.
Shipwreck '99, at the Queen Mary, Long Beach. Probably my favorite haunt of the 1990's. Awesome mazes throughout the ship. Not recommended for children. $20 admission. Tickets are available at the gate or by calling 888-ETM-TIXS. Oct. 15-17, 22-24, 27-31.
Six Flags Magic Mountain's Fright Fest, Valencia. Live shows, monster mazes and Alice Cooper's Brutal Planet are the events in store to scare you at this amusement park. There will be the Looney Tunes Spooky Town for the kids from 10:30am to 5:30pm. Adults $39, $19.50 for children. Call 661-255-4849 for times and dates or check out the Fright Fest web site.
Halloween Horror Nights III, Universal Studios, Hollywood. Haunted mazes including "The Thrilling Chilling World of Rob Zombie", "Mummy Maze" based on the hit summer movie of 1999, and a maze by the Hell Raiser himself, "Clive Barker's Hell". You can ride the Jurassic Park ride in the dark and see live shows as well. A word of caution. Universal gets extremely crowded and rowdy. I don't recommemd this for kids at all. You are warned.
Bob and Dave's Spooky House. A great little haunted house in Southern California that isn't too expensive. To check it out click here.
G.Y.R.O.'s World of Terror, Santa Clara County Fairgrounds, San Jose. Lots of mazes with a 3-D feel, the World of Terror is probably the big scare for Northern California. It's pretty expensive and past events have been both great and disappointing. Hopefully with their new expanded location, it will be great again. For more info click here.
That's my little list. I'll review any of these I attend so look for it in the reviews section of the Dungeon Times. Most of these events are over $30 but some are very reasonable. My picks for someone who is new to California or has never gone to any of these events are Knott's Scary Farm, Bob and Dave's and (or) Shipwreck '99. You'll be broke, but it will be worth it.
---
JOHN CARPENTER SCARES UP MARTIANS
10/15/99
John Carpenter (Halloween, Escape from New York, In the Mouth of Madness) is set to direct the sci-fi thriller "Ghosts of Mars" for Sony's Screen Gems. Set 200 years into the future, "Ghosts of Mars" tells the story of human colonists on Mars who must be rescued when they are possessed by Martian ghosts. Production is scheduled to start in early 2000.
---
TERMINATOR 3 ONE STEP CLOSER
10/12/99
It looks as if the third installment of the "Terminator" series is one step closer to reality. Sources say Toho-Towa, a Japanese comapny and an unnames German firm, are putting up the funds for the development of the film. Andy Vajna and Mario Kassar who purchased the rights from Producer Gale Anne Hurd took the project to 20th Century Fox. But before Fox could make a bid, the foreign partners had stepped in. There is no word yet if Arnold Schwarzenegger will star in the film. James Cameron, the director of the first two installments is not involved. Without Cameron's involvement, it is doubtful Schwarzenegger will commit.
---
FLYING FRANKENSTEINS!!!
10/8/99
A team of 25 "Frankenstein Monsters" recently parachuted into the town of Frankenstein Mo., which had changed its name to Young Frankenstein temporarily to commemorate the 25th anniversary of the Mel Brooks classic horror-comedy "Young Frankenstein".
---
HOPKINS RETURNS AS HANNIBAL
10/4/99
It looks as if Anthony Hopkins will reprise his role as Hannibal Lecter in the follow up to "Silence of the Lambs". The London Daily Mirror reported last week that Hopkins agreed to play Hannibal again because he heard the script was good. The Mirror also reported that the new film by Universal will be called "Morbidity of the Soul". At this time Jody Foster has yet to be signed to play FBI agent Clarice Starling in the sequel.
---
NO SCREAMS AT CHRISTMAS
10/4/99
The scheduled Christmas Day release of "Scream 3" has been moved to February 4, 2000. Sources at Miramax said that aside from a crowded holiday schedule for films at Christmas, Wes Craven just finished shooting. The film will again star Neve Campbell, David Arquette and Courteney Cox.
---
UNIVERSAL HORROR NIGHT TO ADD NEW ATTRACTION
8/26/99
Universal Studios "Horror Nights" Halloween attraction will be adding the "Mummy Maze" to its arsenal. It has been creatd by none other than Stephen Sommers of "The Mummy" fame. The maze will have original props
---
ROGER CORMAN AND AMC GIVING US A SCARE!
8/25/99
Roger Corman, the famous verteran "B" movie director will star and produce a 35 part (chapter) serial monster flick for American Movie Classics. During AMC's Halloween movie festival beginning October 29th, Corman will play a man who heads AMC's Horror Department named Gorman during the breaks in between the classic monster movies all weekend.
Corman will also host the 39 films seen in AMC's "Monster Fest '99" beginning October 25 as well as host his own films for an 8-week run on AMC beginning in September. AMC will screen 8 of his films every Friday at 10pm. Some of the films will include, "Teenage Caveman," "The Pit and the Pendulum," and "Fall of the House of Usher."
"AMC has given me the chance to make my first, and revisit the many horror genres I love in the hit-and-run, no holds barred style that we used during the glory days of AIP," Corman said.
---
ALL CGI "MONSTER MOVIE" ON THE MOVE
8/12/99
It looks as if Universal and ILM are moving their all CGI Frankenstein Monster movie from a Halloween 2000 release to May 2001. The picture stalled when executives got worried about an all computer generated film would garnish a PG-13 rating. Stephen Sommers of "The Mummy" fame got on board to executive produce and soften the story to get that coveted childrens G rating.
---
IT SEEMS HORROR IS "IN" AGAIN
8/1/99
But did it ever really go away? With the success of "Scream", Scream 2" and "Halloween: H20", the studios want to put their creepiest foot forward and try to scare the hell out of you. With "The Blair Witch Project" causing a huge stir in the genre and "The Haunting" opening to over $32 million in it's first three days, what's next for the horror buff. Look no further and wait no longer because there's a lot more coming to a theatre near you.
Lake Placid and Deep Blue Sea both open in July and will satisfy those looking for scary monsters. The Sixth Sense and Stigmata will scare up the paranormal in late Summer.
The "House on Haunted Hill" will make it in time to scare up some big numbers Halloween weekend of this year.
Just in time for Thanksgiving will be two creepy films. On November 19, Tim Burton's "Sleepy Hollow" will release one week ahead of the Arnold Schwarzenegger end of the world film "End of Days". With the Y2K theme, "End of Days" is sure to scare up some huge opening numbers.
The third installment of "Scream" will scare up audiences in December, 1999. This month has proven to be very profitable for the franchise.
Looking ahead past the millenium, three films to look out for with planned releases in late 2000 or early 2001 are "Nevermore", "Relavations" and a remake of "Dr. Jekyll and Mr. Hyde".
There are tons of other fright films that are also in development. We just don't know when or if they will ever be made. The remakes of the "Creature from the Black Lagoon and the "Wolfman" are just two. With the success of the latest "Mummy" film, these two classic monsters have a better chance of frightening audiences once again. "The Mummy II" is now scheduled to come out in Summer 2001.
Other sequels are also in the development stage. "Exorcist: The Beginning", "Hellraiser 5" and "When A Stranger Calls III" are currently in the works.
The disappointing "Tales from the Crypt" franchise had two films in the works. "TFTC: Fat Tuesday" and "TFTC: Body Count" are now both inactive and may never get made. That may actually be a good thing considering the previous films failed at the box office.
The battle of the monsters have also been in the works for years. "Freddy vs. Jason" has been in talks for years but it seems that this may actually happen...I just don't know when. "Aliens vs. Predator" is another film that has been talked about since the early 1990's but the status of that film is currently unknown.
These are just a few of the horror films coming or not coming to a theater near you. We'll just have to wait and see what develops.
---
DOES "THE BLAIR WITCH" MAKE YOU SICK?
7/30/99
There have been reports that movie goers have been rushing out of theaters sick to no end. The Washington Post reported (7/30/99) that the cause wasn't the creepy scenes or that the film was terrible. The nausea is attributed to the hand-held style camera work that makes up the film.
"What happens is that the brain and camera mismatch messages," says clinical audiologist John Risey of Tulane University Hospital in New Orleans.
"Because you're seated and still, your brain gets wrong information and thinks you are in motion." Apparently this would not happen if you viewed the film on a television monitor.
---
THE MUMMY RISES AGAIN
7/30/99
It looks as if Universal Pictures has signed on Stephen Sommers to direct a sequel to the studio's smash hit "The Mummy". Production is to start next summer with the hopes of a summer 2001 release.
So far, the Brendan Fraser horror film has amassed over $150 million in the U.S. and over $315 million worldwide.
"The worldwide response to "The Mummy" has been so spectacular, I'm dying to do it again - only better", says Sommers.
Unfortunately for Universal, many of the cast members they want back did'nt have sequel options in their contracts so I expect some of the main stars to get huge payoffs which could render the film with an over the top budget.
A portion of The script is to take place in London with the majority to take place along the Nile and in the Egyptian and Nubian deserts.
It's not yet known whether or not ILM will again do the visual effects but I suspect that they will.
---
FRANKENSTEIN ON THE BIG SCREEN AGAIN!
10/11/98
The monster that Boris Karloff and Universal Studios made famous is again coming to the big screen. But this time around he'll be made of pixels instead of body parts.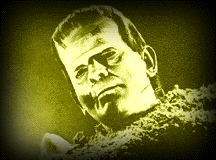 Boris Karloff as the monster.
It looks as if Universal Studios and Industrial Light & Magic are setting their sights on an all computer generated Frankenstein movie to hit theaters in October of the year 2000. But don't expect a cartoon style like "Toy Story" or Antz". They plan to make the monster look as real as "humanly" possible.
ILM is currently plugging away at the project that has an estimated budget of around $80 million.
---
THE TOP HALLOWEEN COSTUMES OF 1998
Titanic
The Spice Girls
Mulan
South Park
Beanie Babies
Teletubies
Zorro
Small Soldiers
Cinderella
Mr. Potato Head
Something tells me that Monica Lewinski and Bill Clinton will be "BIG" this year too.
---
TOP 20 SCARY MOVIES OF ALL TIME (according to TV Guide as of October 1998)
with a little commentary thrown in by me...
20. The Wolf Man (1941) This is a classic. Only scary to the young ones.
19. A Nightmare on Elmstreet (1984) A truly horrifying movie. A modern classic even if the sequels pretty much stink.
18. Near Dark (1987) A very cool vampire movie. If you've never seen it, I highly recommend it.
17. Halloween (1978) The movie that put John Carpenter on the map. This movie deserves to be ranked in the top 10.
16. Invasion of the Body Snatchers (1956) A great movie symbolizing 1950's Cold War hysteria. The 1978 remake was great too.
15. Young Frankenstein (1974) Not scary but funny as all heck. This shouldn't be on this list.
14. Masque of the Red Death (1964) The only movie on the list I've missed. But if Vincent Price is in it, it's gotta be good.
13. Scream (1996) A great story and great direction make this one of the most original horror movies of the decade.
12. King Kong (1933) Another truly great story but I doubt it will scare even the smallest of children.
11. Blue Velvet (1986) Not really a horror movie but very disturbing. Don't show this to your kids.
10. Dracula (1931) The first great vampire movie. Classic in every aspect.
9. Frankenstein (1931) The film that made Boris Karloff a household name. Very good.
8. Bride of Frankenstein (1935) A great sequel that surpasses the original.
7. The Shining (1980) So what if Stephen King hated this movie. It is truly a classic in terror. Besides, the newer TV version that King had made sucked!
6. The Silence of the Lambs (1991) I concur with TV Guide in naming this the best horror movie of the '90's.
5. The Birds (1963) A very creepy movie for the kids but I'm not sure I would recommend it to them.
4. Rosemary's Baby (1968) A great devil movie if I ever saw one.
3. Alien (1979) Probably my favorite horror/sci-fi movie of all time. Very chilling!
2. Psycho (1960) The movie that set the standard for horror. A slasher flick without "seeing" the slash.
1. The Exorcist (1973) Next to Alien, this is my pick for the scariest flick of all time.
A COUPLE OF MY TOP PICKS
Night of the Living Dead (1968) Should be in the top 10. Very creepy.
Bram Stoker's Dracula (1992) If you can get by Kneau Reeves acting...this is a great film. Gary Oldman is truly fantastic.
---
Home / Dungeon Times / Grave Tales / Haunted Thrills / Pumpkin Patch
The Side Show / Cool & Creepy / The Trader / Amazing Shows / Astounding FX / Haunted House Dave
Copyright 1998-2001, Club Haunt • All rights reserved / e-mail comments to Haunted House Dave